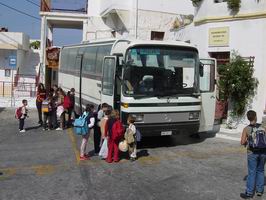 A lot of the kids in the school don't live in the village, so in the morning they take a taxi or the local bus to school and in the afternoons they take a bus or a taxi back to their house. In the summer the buses are used as public transportation but during the school year they just use them for the kids. There is another school in the port of Korissia and another in the farming community of Kato Mera.

You can click on the picture to see it bigger
Ms Millard, the teacher that will be my teacher when we get back to America, sends me e-mail with special projects so I won't forget how to be a student in America. This is a map she wanted me to draw of the island. My Dad then took a digital photo (like this one) and sent it back to her. She also sent me a book of Math problems and a book about American History. It seems pretty silly to be reading about American History on a Greek island.