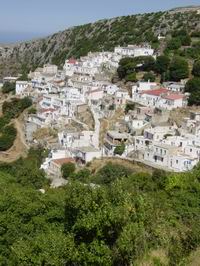 Naxos is the largest island in the cyclades, and sometimes it seems so big that you forget you are on an island! There are a lot of villages, streams, mountains, farms, and there is even a lake. There are forests of reeds called Kalamia. Almost all of the meat and vegtables that you eat in the resturants come from the island. Naxos is famous for its potatoes, cheese, lamb, wine and a fruit called the citron that they make liquor, candy and perserves out of. Every Easter, the farmers from Naxos bring lamb, cheese and wine to sell in an open market in the district of Psiri in Athens.
In the village Apiranthos up in the mountains there are three museums: Natural History, Geology and Archaeology. This is the head of a dinosaur in the natural history museum. There is a very good restaurant called the Platanos where we went with our friends from Slovenia.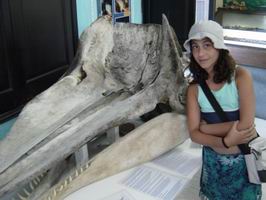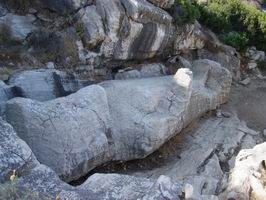 Near the town of Apollonas on the far North of the island is a giant statue called a kouros. It was never finished and it still sits in the quarry above the town. The reason they never finished it is because it cracked while they were making it. There are 2 other statues like this but this is the biggest. The statue is 10 meters long and we climbed on it (It is laying down).
The town of Apollonas has a big sandy beach, cafes, restaurants and icecream!
My favorite place on the island is the Picasso Mexican resturant in Naxos town. This is Debbie who owns it with her husband Stratos. My favorite foods were the nachos and the guacamole. The Picasso also serves chicken-wings, fajitas, quesadillias, chips and salsa, and margaritas to unstress your parents.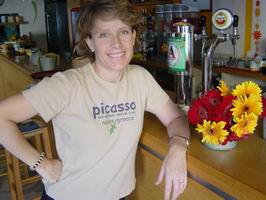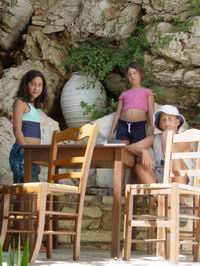 Islands are always more fun when you make friends with other kids. These are my friends Luca and Te-a from Slovenia. Don't be shy about talking to other kids, because chances are that they will want to talk to you too. Naxos is an excellent island for families with kids. Stay close to the beach and get your parents to rent a car for a day or two.
For more info on naxos see my Dad's site at www.greecetravel.com/naxos